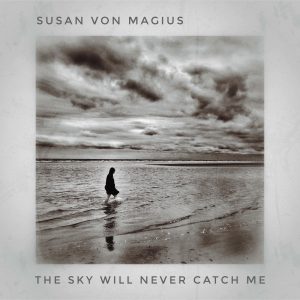 The Sky Will Never Catch Me, Album, 2021
I Remember You
20 Minutes
Homeless Sorrow
November Ate Us All
Oh Mighty Tree
You Think You Love Me
Randomly Arriving
Corner of the Universe
Stealing Time
Strange Light

---
The Sky Will Never Catch Me er indspillet i Aarhus mellem september 2019 og september 2020.
Sangene er skrevet af Susan von Magius og produceret og mixet af Nikolaj Heyman.
Mastering: ET Mastering.
Susan von Magius: Vokal, guitar, keyboards, kor
Nikolaj Heyman: Guitar, keyboards, bas, percussion, trommeprogrammering, mundharmonika, kor
Peter Dombernowsky: Trommer, percussion
Lars von Magius: Elguitar, keyboards, kor
Projektet er støttet af Koda Kultur / With support from Koda's Cultural Funds.
---
Album Trailer, january 2021